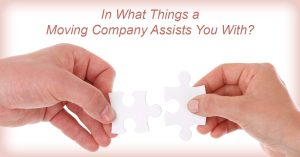 Moving can be an oppressive experience, with numerous tasks to juggle and decisions to make. Luckily, moving companies exist to ease the burden and streamline the entire process. From packing up your belongings to transporting them to your new house, a reliable moving company offers invaluable assistance.
In this comprehensive guide, we'll get into the various ways a moving company can assist you during this transitional phase.
Packing Services
One of the most time-consuming aspects of moving is packing up your entire household. A professional moving company can take charge of this daunting task. Their expert packers will carefully and efficiently pack your belongings, ensuring their safety during transit.
Whether it's fragile items, large furniture, electronics, or valuable possessions, they have the expertise to handle it all.
Loading & Unloading
The process of lifting heavy boxes and furniture can be physically taxing and even risky. With a moving company, you won't have to worry about straining your back or enlisting reluctant friends for help.
Trained movers will load your possessions onto the moving truck with precision, maximizing space and minimizing the risk of damage. Upon arrival at your new home, they will safely unload everything, saving your time and energy.
Transportation
One of the primary responsibilities of a moving company is to transport your belongings from your current residence to your new location. They have a fleet of well-maintained moving trucks that are equipped to handle short-distance & long-distance moves. You can trust them to navigate the best routes and ensure a timely delivery of your possessions.
Storage Solutions
Sometimes, moving dates don't align perfectly and you may need temporary storage for your items. Reputable moving companies often provide secure storage facilities to cater to such situations.
Whether you need short-term or long-term storage, they can accommodate your requirements and keep your belongings safe until you're ready to receive them.
Furniture Disassembly & Assembly
Large and bulky furniture items can present a significant challenge during a move. However, a professional moving team is well-versed in furniture disassembly and reassembly.
They come equipped with the necessary tools to take apart your furniture before transit and put it back together in your new home. This service ensures that your furniture fits through doorways and hallways, reducing the risk of damage.
Insurance Coverage
Despite the utmost care and precautions, accidents can happen during a move. The professional movers offer insurance coverage to safeguard your belongings against unforeseen events. While planning your move, inquire about the types of insurance available and choose an option that provides adequate protection for your possessions.
Customized Moving Plans
Every move is unique and a professional moving company understands this. They work with you to create a customized moving plan that is tailored to your specific needs & budget. Whether you require full-service packing or need assistance with corporate moves, they will accommodate your preferences and provide a seamless moving experience.
Final Words

A moving company is an invaluable partner during the difficult process. From handling the meticulous packing to ensuring the safe transportation of your belongings, their expert services ease the burden and allows you to focus on settling.
Whether you're moving locally or across the state, entrusting your move to a reputable moving company offers peace of mind and a smoother transition.
So, next time you plan a move, consider enlisting the expertise of a professional moving company to make the journey to your new home a pleasant one.
Remember, with the right moving company, you're not just moving your belongings; you're moving with confidence.
Get Your Free Moving Quote!